These two are my absolute favourites of the year. I cried my eyes out during several parts of Aristotle and Dante Discover the Secrets of the Universe. The scenes aren't even typical tearjerkers, and I don't deal with the same problems as the main characters, but with his observant, thoughtful writing style, the author succeeded in making me care a lot about Ari and Dante, and I could relate to them on the more general level of having to figure out who you are and who you want to be. I recommend this to anyone and everyone!
The Raven Cycle
is my favourite current young adult series. The characters are very close to my heart, and I especially enjoyed
The Dream Thieves
because of its focus on Ronan, whom I now adore even more than I
already did in The Raven Boys
.
I already mentioned
A Game of Thrones
as my favourite book
in the first half of 2014
, and I'm mad at myself because I didn't continue on with the series. No need for descriptions, it's just brilliant.
A Single Man shows a single day in the life of George, a gay English professor who has to deal with the recent loss of his partner and his otherness as an Englishman in a shabby suburban neighborhood in Southern California. George is a very unique character, who, although at times depressed and pessimistic, still manages to see the beauty in life, and thus not only once brought a smile on my face with his comically cynical observations.
If you don't want to read the book, at least watch the movie, it's great. (And it has Colin Firth in it, so what are you waiting for? I swear, I could've read this novel twice as fast if I hadn't been so distracted by his handsome face on the cover. Not complaining, though.)
I wrote an
in-depth review
of
The Book Thief
, so I won't make many words about it now. It's a great, moving story, and I want to check out Markus Zusak's other book, I Am the Messenger, in the future!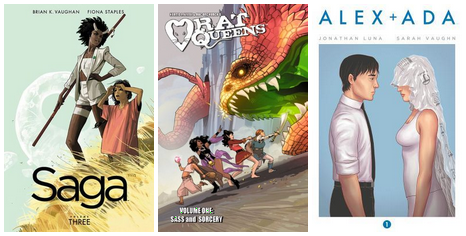 2014 has been the year of comics for me. I've read more than any year before, and my collection has at least tripled. I read the entire Saga series, and have determined that it is my favourite comic. Brian K. Vaughan is a creative writer and Fiona Staples does a wonderful job in bringing his ideas to life. I cannot decide which character I like the most, which, to me, is always an indicator for a great story.
The honour of best artwork as well as most hilarious comic, however, goes to
Rat Queens
. Having a rather trashy-looking cover, this series took me completely by surprise and impressed me with its humour (Gary! Betty!) and a strong cast of diverse, distinct female characters.
[Review.]
Alex + Ada
is a comic I was a bit hesitant about
when I wrote my review
, but which later grew on me, for I very much enjoyed the slower, non-action-packed approach to the topic of robots and future technology.
… or, my excuse to recommend
Hannibal
to you. This is by far the
best show I started watching in 2014
. Superb actors, phenomenal storytelling, fantastic soundtrack, wonderfully gritty atmosphere, stunning cinematography and, I have no more adjectives. I even bought the first of Thomas Harris'
Hannibal Lecter
novels because of the show, although that's not my genre at all.
Best event in 2014: Thurston Moore concert in October. I usually go to 2 – 4 concerts every year, depending on which artists are on tour right now. This year, I've only managed to go to one, so it's automatically my favourite, but it was great nonetheless. I like Sonic Youth, but I hadn't listened to much of Thurston Moore's solo work prior to this concert, because I could never decide whether I think he's smart or a total douche. What I can tell after this concert, though, is that, whether it be as the singer of Sonic Youth or as a solo artist, he is definitely a great musician.
Best pastime in 2014:
Learning new languages. I started taking language courses in Swedish and Icelandic a few months ago, and it's so much fun. I love being able to communicate in multiple languages, which is one of the reasons I started this blog in English. If I could choose one place to spend the rest of my life in, it would probably be somewhere in Scandinavia, the mentality of the people, the landscapes as well as the languages are just beautiful. It's been particularly hard to find an Icelandic teacher, so I'm glad it worked out.
Favourite song of 2014:
Not a song, but a concerto! Jean Sibelius'
Violin Concerto in D minor, Op. 47
. I cannot believe I only just now stumbled across this beautiful piece.
Best decision I made in 2014:
Reviving this blog, duh! I enjoy exchanging views about books with you, and I've felt very welcome in the book blogging community right from the beginning, which is why I want to give thanks to everyone who came around this wee little blog, left a nice comment or just read through one of my posts. Thank you very, very much, it means a lot to me!