Hey guys. It's been a while ... I've only read one book in September (
The 5th Wave
– I've posted a
short spoiler-review
on Goodreads, in case you're interested in hearing my thoughts about it), so I didn't exactly have anything to blog about. However, that doesn't mean that I didn't acquire any new books.
Initially, I intended not to buy any more books this year because I wanted to save some money for
book-shopping in London next year
, but you know how it goes … One thing led to another, and I ended up with 14 new books. Yeah. I know.
Both I and my mum received a 15€ eBay voucher code, and I just couldn't pass that up. Then I bought a gift card for a friend, which I didn't need after all, so there was yet another book-buying opportunity.
The Wind-up Bird Chronicle by Haruki Murakami
Revolutionary Road by Richard Yates
A Single Man by Christopher Isherwood
With Frankenstein, I now own seven books in the Penguin Clothbound Classics editions, and each one is prettier than the next.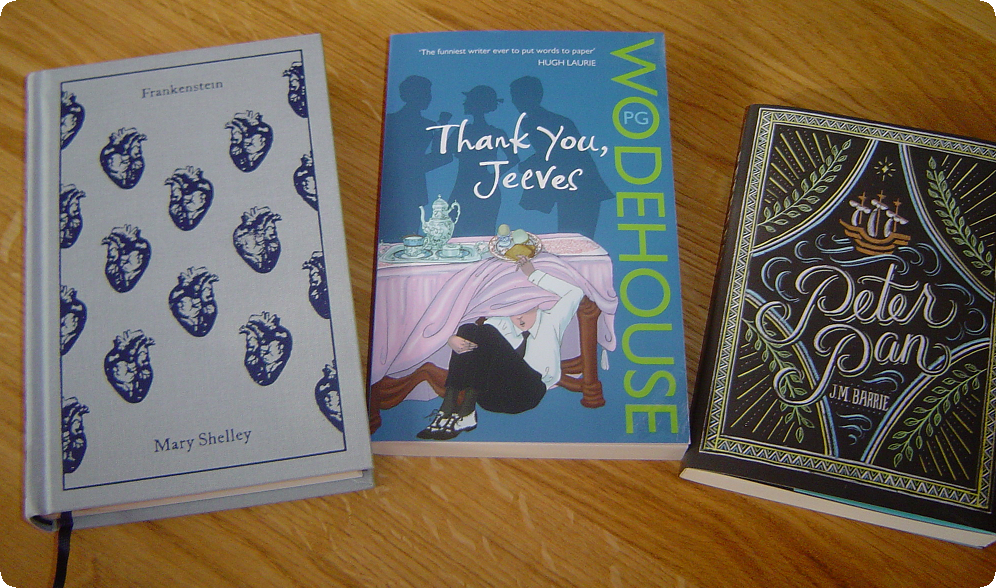 Frankenstein by Mary Shelley
Thank You, Jeeves by P. G. Wodehouse
Peter Pan by J. M. Barrie
A few additions to my beloved Penguin English Library collection. I'm particularly excited to check out a few more of Elizabeth Gaskell's works!
The Scarlet Letter by Nathaniel Hawthorne
The Tenant of Wildfell Hall by Anne Brontë
Wives and Daughters
by
Elizabeth Gaskell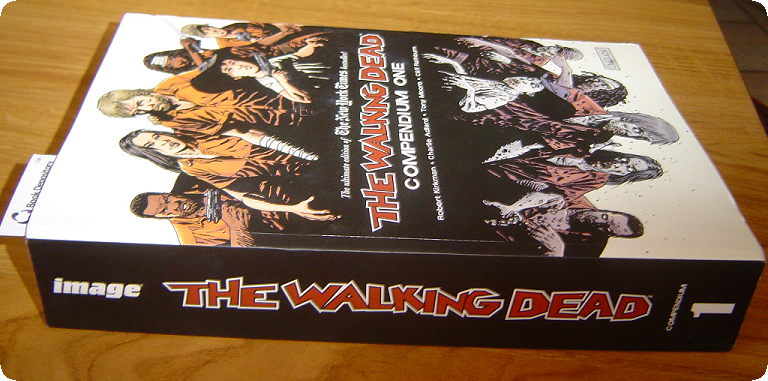 The Walking Dead Compendium #1
by
Robert Kirkman
Foyles Limited Edition. I could not resist its beauty. I generally don't like turquoise, but in combination with pink it's strangely of appealing. And the cover itself is extremely pretty as well, it's most likely my favourite book cover of 2014.
Finally, I found out that the old Bloomsbury editions of Harry Potter aren't printed anymore, and I was still missing book 4, 5 and 6; so I had to react quickly. [Harry Potter and the Half-Blood Prince is still in transit.]
Harry Potter and the Goblet of Fire by J. K. Rowling (used copy)
Harry Potter and the Order of the Phoenix by J. K. Rowling
If you've read any of these books, do let me know what you think about them. If you normally shy away from deliberately humorous books—which I do, too—, please try out some Woodhouse! I've only read a couple of pages from Thank You, Jeeves yet, and it's wonderfully hilarious.
It might take a while until I post another book review because I'm doing a reread of the entire Harry Potter series, which is the best method to get back into the reading mood (and a more cheerful mood in general).
BTW: Even though I don't want to buy more books for a while, I'm still going to post another book haul before Christmas, as I expect to receive another gift card by the end of October. :)