This book delivers a fantastically plausible explanation for why we muggles cannot see magical creatures – but they do exist, duh!
I only picked these two books up once I heard that Fantastic Beasts includes side notes by Harry, Ron and Hermione. The scribblings definitely increase the entertainment value. The book has Jo's typically humorous style, although you don't notice too much of it, for the book is written like a fictional lexicon.
It's nice to get some background information on the 75 known fantastic beasts, but I doubt much of it will stay in my head. It's quite fascinating, really, to see all these magical creatures and other facts about the wizarding world that J. K. Rowling comes up with. Let's not forget, though, that this is supposed to be non-fiction, so it's rather a succession of facts than a suspenseful read. Nonetheless, it was interesting and enjoyable.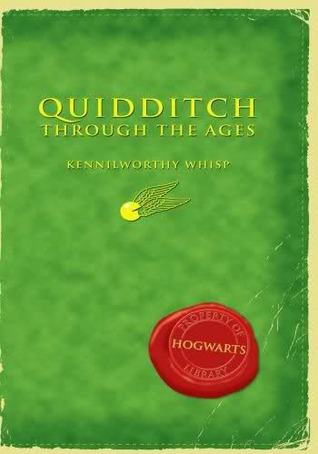 I couldn't help imagining that resentful woman's voice in my head while reading this particular passage. And the mere thought that a grumpy diary entry like this would centuries later be showcased at the Museum of Quidditch, for the whole wizarding world to inspect, is glorious!
Of the three Harry Potter companion books, this is the one that I enjoyed the most – and the one I initially was least interested in. It was a more enjoyable read than Fantastic Beasts, for it is not written in the style of an encyclopaedia, but as a textbook. It contains fictitious newspaper clippings, diary entries as well as illustrative drawings, that loosen up the informational text.
I adore J. K. Rowling's humour, which comes to light in this book even more than it does in Fantastic Beasts. The history of Quidditch presented in this volume is genuinely interesting, and Rowling once again proves great creativity. I also appreciate how she draws connections to some of the creatures that we get to know in Fantastic Beasts.

I don't have anything negative to say about it, but it simply wouldn't be fair in comparison to give a mere complementary book 5 stars.
These are entertaining, quick reads that contain some interesting complementary information about the wizarding world. I'm sure fans of Harry Potter would enjoy them (or have already read them anyway).
And by the way, this edition by Scholastic is the best boxed set I've ever bought. The illustrations on the outside are—pardon me—hideous, but the box itself is made of very sturdy cardboard, which is much appreciated, as my other boxed sets usually get a tad tatty.