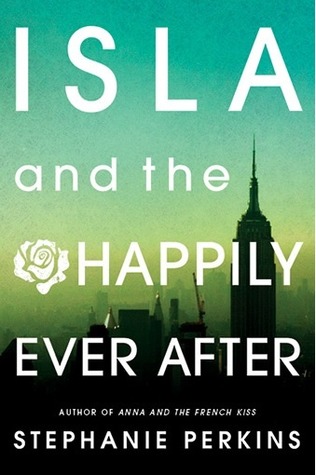 BASIC FACTS
Author:
Stephanie Perkins
Published by
Dutton Juvenile
on 14th August 2014
Genre: contemporary romance [young adult]
ISBN: 9780525425632
Pages: 352
SYNOPSIS
From the glittering streets of Manhattan to the moonlit rooftops of Paris, falling in love is easy for hopeless dreamer Isla and introspective artist Josh. But as they begin their senior year in France, Isla and Josh are quickly forced to confront the heartbreaking reality that happily-ever-afters aren't always forever.
(source: Goodreads)
QUOTES
"I don't know what I believe. I guess that makes me a Christmas Tree Agnostic."
"'Colour me intrigued, Martin.' I wrinkle my nose. 'Yeah. That doesn't work with a male surmane, does it?'"
MY OPINION
I always take notes while reading books I intend to review. If I only based this review on my impression of the first couple of chapters, I'm pretty sure it would still turn out to be fairly accurate. Sadly—because something about this novel seemed odd right from the beginning.
First off, the good stuff: Isla and the Happily Ever After is written in Stephanie Perkins' cute, fluffy style that makes you want to absorb the whole book in one sitting, and you won't even notice how quickly time flies by.
Another perk is the setting. This time, we don't only follow the main character's life in the charming Parisian boarding school known from Anna and The French Kiss, but we also get a glimpse at a different European city as well as Isla's home in Manhattan. I appreciate stories that place a special emphasis on the setting, as opposed to those that are set in an unnamed, random town that has no significance to the plot.

Instead of having two characters who get together at the end of the book after a long period of struggles and complications, Isla and Josh become a couple almost instantaneously. While I appreciate Stephanie Perkins' effort to shake up her pattern a bit, I thought it was neither convincing nor particularly suspenseful for the readers.
At the beginning we learn that Isla has had a crush on Josh for years. They coincidentally meet at a restaurant in their mutual hometown Manhattan, and Josh takes an interest in her right away. Apart from the fact that this seemed awfully convenient, it all happened way too fast. What starts as a teenage crush turns straight into a relationship, without any nuances of them getting to know each other. That's kind of an unhealthy base for getting involved with someone. Perkins expects you to accept Isla's feelings for Josh without giving any reasons for readers to understand his appeal.

I usually read contemporaries in which the boy gets the girl at the end, and the banter beforehand provides tension and maintains the suspense throughout the whole novel. In this case, however, the story arc felt anti-climactic and slightly random.
Isla focuses more on the problems that arise when you're inexperienced and in a relationship. There were two major obstacles in the protagonists' relationship. The first one happened halfway through the book and came as no surprise. The second problem, though, was far-fetched and felt like the author was making a mountain out of a molehill, for the sole purpose of having some drama.

Isla's teen angst was just too much for my taste. I lack self-confidence myself, so I normally like awkward characters, but this time it didn't feel right. I didn't care much about Josh, either, until the end of the book. He came across as a rich kid and I couldn't understand why he acted the way he did, with made it hard for me to sympathise with him. And Kurt, Isla's autistic best friend, was fifth-wheeling it big time.

Another unpleasant surprise was the humour. Some scenes are goofy and funny, but there are other parts when I was weirded out by the things the characters were laughing about. I don't remember feeling this way about Stephanie Perkins' previous novels. It was odd.

If all that sounded horrible to you, let me assure you that I nonetheless enjoyed Isla and the Happily Ever After, even though I was disappointed with it. The ending is what saved this book for me. It rounded up unresolved issues between Isla and Josh, as well as with her little sister Hattie. The protagonists made some progress in their relationship, and their mutual feelings seemed more realistic and comprehensible.
We also get to see more of Josh's personality through his graphic novel. As a fan of comics and art, I enjoyed that aspect of the story. The fnal reunion with Anna, Étienne, Lola and Cricket was adorable, so in the end, the novel does somewhat live up to its title. In my opinion, it's just nowhere near as good as Stephanie Perkins' previous novels. Had I known this would turn out to be a disappointment, I probably wouldn't have read it.
RATING