I've been away for a few days because my internet access got fried due to lightning damage. So now I'm hoping to catch up with your comments and all the stuff that I might've missed.
I won't be posting a lot in July because of my
chunky books TBR
. Let's just say that my plan hasn't come to fruition (just yet), and I really need to catch up.
Anyways, today I'd like to share my preordered books and comics for the rest of 2014 with you. Sequels and conclusions to some of my favourite series are going to be released later this year, so naturally, I'm very excited!
.
.
Alex + Ada, Volume 1 by Jonathan Luna and Sarah Vaughn
Publication Date: 29th July, 2014
This is a sci-fi comic series set in the near future when androids are an essential part of society. The human Alex gets in the possession of the android Ada, and then he slowly starts to realise that Ada is more to him than just a robot.
This could either turn out to be extremely weird (if you know what I mean ...) or really interesting, so I figured I'd give it a shot, even though I'm not that impressed by what I've seen of the artwork so far.
Publication Date: 7th August, 2014
Yes, I am aware of the fact that this novel was published back in 1856, however, the amazing Penguin Clothbound Edition is getting a reissue! I've been meaning to read Madame Bovary for a few years, but I wanted this particular edition to extend my Penguin collection. The book was out of print for a long time, and copies were sold on eBay for ridiculous prices, hence I was thrilled to find out that it'll finally be reprinted! THANK YOU, Penguin.
Publication Date: 14th August, 2014
It's only 28 more days until the release of Isla, you guys! The date was postponed so many times, but the waiting finally comes to an end next month. This is probably my most anticipated book of 2014. I don't read that many contemporary YA books, but I adore the cuteness of Stephanie Perkins' novels. And the fact that the conclusion of this series is set in Paris again makes me even more excited!
Publication Date: 2nd September, 2014
While I don't think that the protagonist of this series is as badass and strategic as I imagine the world's greatest assassin to be, I was quite entertained by Throne of Glass and Crown of Midnight. The story is action-packed, and it's one of the few cases wherein a love triangle doesn't bother me.
Also, how awesome are these covers? Especially the one for Heir of Fire. Perfect colour scheme.
Publication Date: 21th October, 2014
Immediately after
finishing The Raven Boys
, I (pre)ordered
The Dream Thieves
and
Blue Lily, Lily Blue
, because I admired Blue and her Raven Boys so much! I haven't read
The Dream Thieves
yet, but it's going to happen soon.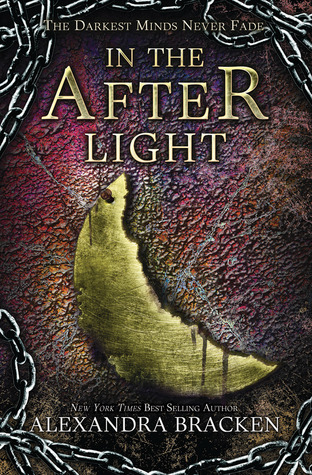 In the Afterlight
by
Alexandra Bracken
Publication Date: 28th October, 2014
This is the conclusion of the
Darkest Minds
series. I've already talked about it briefly in a
Waiting on Wednesday post
,
so if you don't know these books – which I doubt – you can find a short synopsis over there. Again, I still haven't read
Never Fade
because I'm awful like that, but I'm sure that I'll get around to it before
In the Afterlight
comes out.
Which releases are you most excited about? Any of the ones that I mentioned? And which books am I missing out on? Do you even preorder books at all? And do you like
Penguin Clothbounds
as much as I do?