I have the annoying habit of buying big books and then neglecting them. I could read two or three shorter novels in the amount of time that it takes me to read a bigger one, so I usually reach for books with less than 500 pages. Am I the only one who does that, or does anyone else have this problem, too?
I'd very much like to kick this habit in July, thus my plan is to read
as many books with
500+ pages
as possible
! And as you might know if you've read my
Biannual Recap
, I also want to diversify my reading, therefore my TBR includes a classic and an adult fiction novel! Yey
.
East of Eden by John Steinbeck (728 pages)

The Book Thief by Markus Zusak (554 pages)


The Goldfinch by Donna Tartt (771 pages)


A Clash of Kings by George R. R. Martin (969 pages)


The Final Empire by Brandon Sanderson (643 pages)


The Name of the Wind by Patrick Rothfuss (662 pages)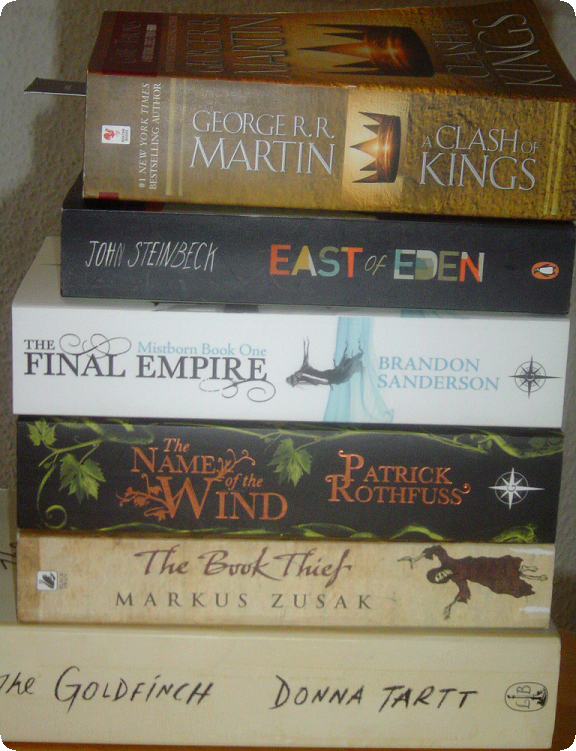 Bearing in mind that I've only managed to read about
10,000 pages so far this year
(so pathetic), a total of
4327 pages
in one month might be considered slightly over-ambitious. I don't expect that I'll be able to finish all of them, but I do want to get a good chunk read.
I'm pretty sure that I'm going to love all of these books, I just haven't got around to reading them yet. If I won't manage to read A Clash of Kings, you hereby have my permission to punch me. I haven't seen season 4 of GoT (except for the Sigur Rós scene, I couldn't miss that one) because I intend to catch up with the books first, but I'm failing miserably. Spoilers are lurking everywhere, and I think I know every single character death already, so there isn't even a point in avoiding the show. :(
Please let me know whether you've read any of the books on my TBR, so I can decide which one to pick up first! Also, do you have a trick for motivating oneself to read more big, intimidating books? :)