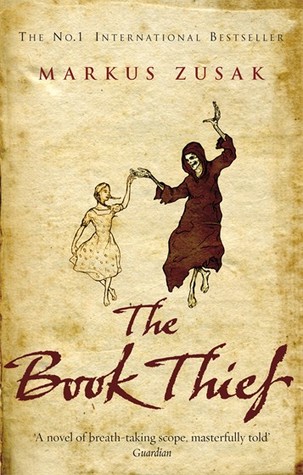 BASIC FACTS
First published by Picador in 2005
Genre: historical fiction [young adult]
SYNOPSIS
"1939. Nazi Germany. The country is holding its breath. Death has never been busier.
Liesel, a nine-year-old girl, is living with a foster family on Himmel Street. Her parents have been taken away to a concentration camp. Liesel steals books. This is her story and the story of the inhabitants of her street when the bombs begin to fall.
Some important information: This novel is narrated by Death. It's a small story, about: a girl, an accordionist, some fanatical Germans, a Jewish fist fighter, and quite a lot of thievery."
[From the blurb on the book, as I thought it was a fairly appropriate description.]
QUOTES
"
If only she could be so oblivious again, to feel such love without knowing it, mistaking it for laughter."
"They say that war is death's best friend, but I must offer you a different point of view on that one. To me, war is like the new boss who expects the impossible. He stands over your shoulder repeating one thing, incessantly. 'Get it done, get it done.' So you work harder. You get the job done. The boss, however, does not thank you. He asks for more."
MY OPINION
- the overuse of the words 'Saukerl' and 'Saumensch'
These two words are used so often – 105 times in 554 pages, and I might have missed a couple – that it seems as if it were the only German swear words that Markus Zusak knew. To be fair, it serves to demonstrate the somewhat crude and rustic manners of Liesel's foster mother, and it intensifies the tone and atmosphere of the '30s and '40s, but it did get on my nerves, especially in the beginning. Other than that, the occasional use of German phrases is well-done and accurate.
The fact that this mere trifle is my only negative point for the whole book just goes to show how great The Book Thief is.
+ narrative style and structure
I loved that the story is narrated by Death. It's very fitting, as the time of Nazi Germany was majorly defined by death and despair. Death is cynical and makes snarky remarks, which makes him an disconcertingly sympathetic and amusing narrator.
Markus Zusak's writing style is fantastic! I was immersed in the story from page one. For example, the atmosphere is described vividly through colours, which is very interesting.
The story is divided into ten parts, each named after the book that accompanies and influences Liesel at that particular part of her life. Markus Zusak also makes use of an intriguing narrative device, in that the narrator alludes to events that will happen later in the book. For instance, in the middle of the book we as the readers get to know some of the character deaths that will happen at the ending. However, that does not take away from the suspense, but rather made me want to keep reading all the more because it's not about what actually happens, but what leads to the event.
+ tone/historical background
What goes hand in hand with the superb writing style is the authenticity of the book. It felt very convincing and I think the author did a great job at capturing the tone and the mentality of the Nazi time. Reading the novel felt like experiencing everything firsthand alongside Liesel. It made me think a lot about how living at that time must've been like, whether it be as a Jew, a German or anyone basically. It's certainly not a pleasant thing to think about, but it's important to concern yourself with it anyways.
+ characters
Hans Hubermann, a painter and accordionist, and his wife take Liesel in, even though they are very poor themselves. They are loving parents, and they are very kind and humane in their own ways. It was great to see their relationship with Liesel develope throughout the book. Furthermore, how this resistant family and other citizens of the small town Molching cope with the circumstances of that time is heart-warming. All these small acts of kindness, resistance and solidarity, while the people in their surroundings seem to have lost their humanity, were really touching.
Not only the Hubermann's are great, but there's also the mayor's wife, Rudy and, of course, the Jewish fist-fighter Max Vandenburg (who should have had a lot more appearances in the book!). Each character has a different kind of relationship with Liesel, and I enjoyed reading about all of them.
+ emotions
The Book Thief is very emotional, and not only because it's set in Nazi Germany. It made me feel angry and helpless because of the cruelty of human beings. It made me feel sad because of the many deaths of innocent people, and because the ending of the book was heartbreaking, even though the reader is already prepared that it's going to happen. It made me feel happy and grateful that you can find meaning in your life and see the good things, even though there might be horrific might occur around you. And it made me feel optimistic and hopeful that no matter which awful things humans are capable of, there will always be those who are also capable of love, kindness, friendship and honesty.
CONCLUSION
I'm sure that this story and its characters will stay with me for a really long time. If The Book Thief has been on your reading list for a long time, but you've been hesitant to pick it up for some reason, just do it. Or, if you haven't wanted to read it so far, but you're interested in a story about the power of words and books, pick it up. I think that The Book Thief is not only targeted towards young adults, but can be enjoyed by any age group.
RATING