Hi everyone. It's approximately 30 degrees Celcius outside, so I thought to myself: What better time than now to buy a nice, cosy winter jumper! Right?!
Now you might ask yourself: What in God's name happened to the author of this blog? Last time I checked she was too socially inept to talk about anything other than books. And sadly, you are completely right. But don't worry, I won't turn this into a fashion blog – I got a GATSBY SWEATER.
The jumper is by
Out of Print Clothing
. Their shop is a bookworm's dream, for they only sell clothes and accessories that feature book covers of classics and other well-known works of literature. But the best thing is their cooperation with
Books for Africa
: For each item sold, they donate a book to people who don't have easy access to books. That's brilliant.
For those of you who found this blog post while looking for further information on Out of Print Clothing:
I normally wear a size L (occasionally M), but I wanted a loose fit, so I ordered an XL. I wouldn't recommend doing that though, because their longsleeves are unisex, therefore you can order your usual size and still get a comfortable fit. I have to roll the sleeves up, otherwise I'd be drowning in it.
First Class International Shipping from the US to Germany took about four weeks. I think that's alright, considering that the costs are very affordable.
I'm not a big fan of sweatshirts, but this has instantly become my favourite jumper. It's soft and fleecy on the inside, which will keep you warm, and the print is lovely, too.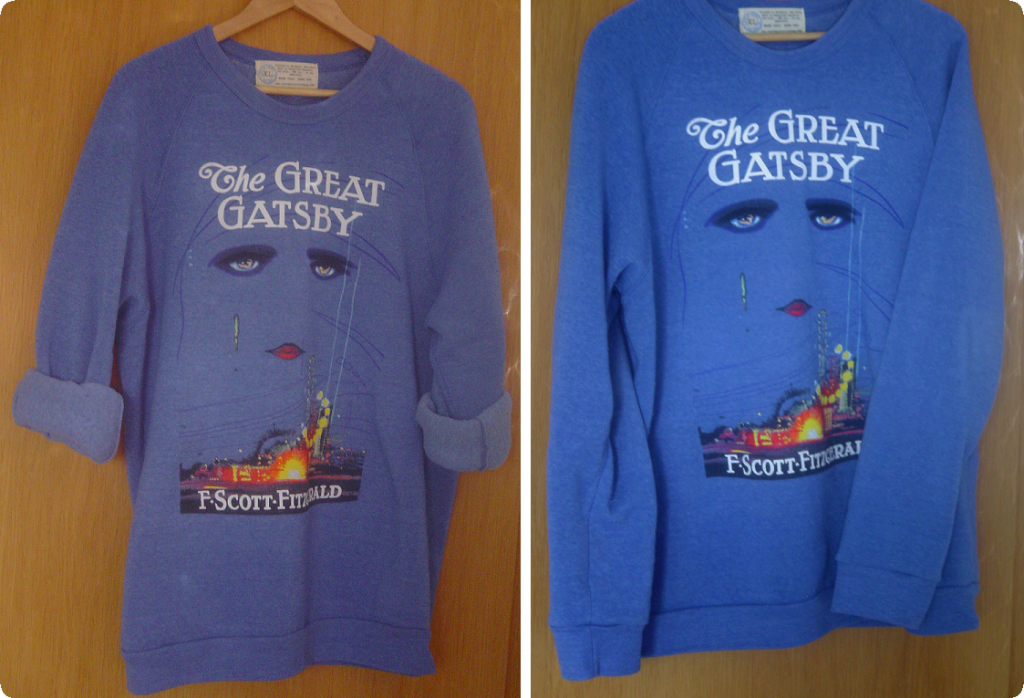 They also have a variety of other cool stuff. I think I'll buy their new
Hitchhiker's Guide
shirt next!
©
Out of Print Clothing
While we're on it, do you have any literature-related clothes? Surprisingly, I only have one other item in my belongings, which is a
Harry Potter
shirt.
Even if the Gatsby jumper didn't look totally rad, I'd still feel comfortable wearing it, as Gatsby is one of my favourite classics, thus the jumper automatically earned a special place in my heart.
If you're wondering, I got
this shirt online from Skreened
. Their motives are printed on
American Apparel
shirts, which are light-weight and super comfy. (On
Pottermore
I was sorted into Gryffindor, btw, but the Slytherin crest looked more appealing to me, that's why I got it.)
So shoot! Do you have any bookish clothes? Or do you think that's stupid because you don't want random people you encounter to know your literary preferences right away?