In the past, I belonged to the group of readers who just (ab)use random objects that are in one's close proximity for bookmarks – such as tissue paper, receipts and so on. I find that readers can get really creative when in desperate need of a bookmark.
But a while ago, I decided to change that deplorable condition. And so I started to create my own awesomeness of bookmarks – or at least that's what I was aiming for. :)
Now I'm going to share a few of them with you, in hopes of inspiring you to create something yourself, and thus, celebrating and spreading the love for reading! Yey.
Additionally, I would be absolutely thrilled if this would prevail
you
to showcase your own bookmark collection on your blog! If so, please leave me a link to it.
For the Tardis, I used a stencil that I found on the Internet. The basic blue shape is made of cardboard, and the details made of paper are glued on. I did not use a stencil for the telephone box, as it is fairly easy to make. Just cut a piece of red cardboard to a narrow rectuangular shape, round up the edges on the top and put on the window bits. The crown is hand-drawn. Foolproof.
Some of these probably look familiar to you because you've already seen the template on my
review for The Night Circus
. When I'm really excited to read a certain book, I sometimes get the urge to create an extra bookmark for it. To enhance the reading experience, I suppose.
The tarot card, which I also made for The Night Circus, is printed on glossy photo paper and has been laminated. Laminators are rather affordable and they are a helpful tool for making your own bookmarks. Say you found a pretty tumblr photo and want to print it out to use as a bookmark (for personal use only, obviously), laminating would make it a lot more durable – and shiny.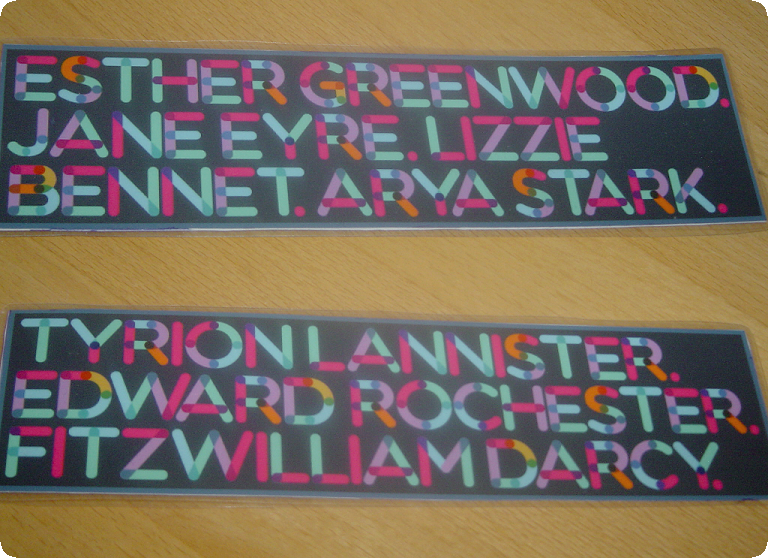 The Sherlock/Sherlock Holmes bookmark is, without a doubt, my personal favourite. In case you can't decipher the quotes:
"When you have eliminated the impossible, whatever remain, however improbable, must be the truth" – Sherlock Holmes, Arthur Conan Doyle
"'Yes, punch me, in the face. Didn't you hear me?' 'I always hear 'punch me in the face' when you're speaking, but it's usually subtext.'" – Sherlock and Watson, BBC Sherlock
These are some of my favourite book quotes. The font is by a fellow nerdfighter,
Sarah Turbin
, and I expanded it by a few missing letters and put it all together – which was no fun, I assure you!
Unfortunately, these beauties weren't my idea, but I just couldn't keep them from you! A while ago,
The Book Depository asked their customers to design bookmarks
for them – and now you can get the winning entries for free with each purchase. I desperately want to collect all of these (in particular the ones by
Lela Stroutsi
,
Tumi K. Steyn
,
Katie Borkin
and
Corina Comarnitchi
).
Now it's your turn to share your bookmarks! :)