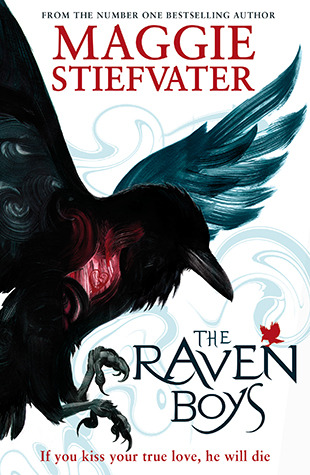 BASIC FACTS
Author:
Maggie Stiefvater
Published by
Scholastic
on 18th September 2012
Genre: fantasy, supernatural, mystery [YA]
ISBN: 9780545424929
Pages: 409
SYNOPSIS
Blue Sargent is the only non-seer in a household of clairvoyants. Even though her family's prophecies normally tend to be vage, they have always been very clear and precise in relation to one matter: When Blue kisses her true love, he is going to die.
Every year on St. Mark's Eve, she and her mother visit the local churchyard. Blue's presence radiates an energy that intensifies other clairvoyants' visions and enables them to see the ghosts of the citizens who will die over the course of the next twelve months.
So when Blue herself sees the ghost of a boy named Gansey, that can only mean one of two things: Either he is her true love, or she is going to kill him – or both.
QUOTES
"It's a hard thing to hold a civil conversation after recalling that one party has used a Taser on the other, so both of them finished the walk in silence."
"Listen to you sounding all badass. I bet you're just listening to a CD called 'The Sounds of Crime' while you cruise for chicks outside the Old Navy in your Camaro."
"'Blue. My name's Blue Sargent.'
'Blair?'
'Blue.'
'Blaize?'
'Oh, Jane! I thought that you were saying Blue for some reason.'"
MY OPINION
The starting point of this novel instantly aroused my interest, as it raises a lot of questions: Is the prophecy concerning Blue actually true, or is it just a lame trick of her mother to keep her away from naughty boys? Is her fate inescapable, or if not, how can Blue's true love be saved? I was really intrigued to learn the answers to these questions.
But as can be expected from the first volume in a quartet series, those answers are not provided just yet. Instead, there is a lengthy passage of roughly 150 pages wherein the reader only gets introduced to each group of characters and to what they are up to.
This leads to my only point of criticism for this book: The pacing is very slow. Hence, when one of the main characters enthusiastically exclaims 'It's starting,' after one third of the book, I couldn't help but think 'Well, man, thanks for waking me up, it's about time!' A set of compelling characters still made the beginning enjoyable for me, but The Raven Boys definitely feels like a start-up because of its slowness and rather basic plot.
I want to become acquainted with all of these wonderful characters. On the one hand, there is Blue's family. Blue must've had a lot of fun in her childhood, because she lives under a single roof with her mother, her aunt and some of her mother's lady friends. They are a bunch of odd, yet really funny and affectionate women. Therefore, they have earned a place on my list of favourite literary families.
On the other hand, there are Gansey and his three friends, the 'Raven Boys', who are pupils of a private boys' school called the 'Aglionby Academy'. They are each different in nature, yet they have a very intimate relationship. It was interesting to learn more about what brought these people together and why they care so much about each other.
When these groups of people finally meet, the story starts to get more exciting. The Raven Boys are on a mission to find the corpse of a Welsh king that is supposed to be located somewhere along a ley line, a supernatural energy line. There's magic involved, and it's all very mysterious and intriguing, but by the end of the book they still haven't made much progress in their pursuit.
There are plenty of laugh-out-loud funny scenes in this book, and I rarely do more than smile when I'm reading. I felt so comfortable reading about these characters, even more so because the story is set in a sleepy little town called Henrietta. It's charming.
Despite the terror I'd felt whenever my Latin teacher demanded me to decline irregular verbs in front of the whole class, I loved Latin in school. So I was pleased to notice that Latin phrases are used multiple times in this novel, and that my language skills are still good enough to understand almost all of them. I like it when other languages are incorporated in books, and Latin makes anything seem more mysterious and ancient by default, so that matched the tone of the story just fine.
The ending was a bit confusing, and the last sentence seemed like a rather weird and abrupt cliffhanger, but I'm thrilled to see which direction the story will take in the sequels.
CONCLUSION + RATING
The Raven Boys has a lot to offer: a set of diverse, likeable characters; humorous dialogues, a cosy setting and a mysterious atmosphere with the promise of adventure. I could see why some readers might dislike the book for its slow narrative style and its somewhat uneventful plot, but I personally think that it's a great build-up to an auspicious series, and I fell in love with all the characters.