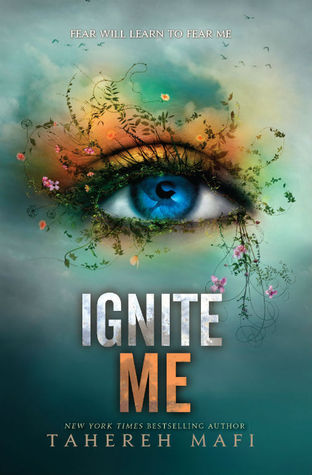 Note:

Ignite Me is the conclusion of a series. If you haven't read the first two books, I'd strongly advise you not to read this critique. You can look up my review of Shatter Me, though.
BASIC FACTS
Published by HarperCollins on February 4th, 2014
Genre: dystopia, paranormal romance [YA]
ISBN: 978-0062085573
Pages: 416
SYNOPSIS
Omega Point is destroyed and the number of people who survived the attack is miserably low. And to top it all, Juliette finds herself stuck with Warner as she is struggling to rebuild her strength in order to take down the Reestablishment once and for all, under these adverse conditions.
"Words are like seeds, I think, planted into our hearts at a tender age.
They take root in us as we grow, settling deep into our souls. The good words plant well. They flourish and find homes in our hearts. They build trunks around our spines, steadying us when we're feeling most flimsy; planting our feet firmly when we're feeling most unsure. But the bad words grow poorly. Our trunks infest and spoil until we are hollow and housing the interests of others and not our own. We are forced to eat the fruit those words have borne, held hostage by the branches growing arms around our necks, suffocating us to death, one word at a time." [pp. 358-359]
Shatter Me was quite disappointing to me, so I went into the rest of the series with very low expectations – and ended up being completely taken by surprise. And what a delightful surprise it was: Ignite Me, as well as Unravel Me, turned out the be extremely captivating and well-written, even to the extent that it kept me up all night reading, dying to know what happens next.
While I'm usually appalled by the idea of a love triangle, in this case it worked out well, as it helped to show Juliette's growth as a person throughout the whole series. I was annoyed with Adam, the initial love interest, in the first book, because it didn't seem believable to me that Juliette would fall in love with him simply because he was the only person in school who wasn't mean to her, but instead only ignored her. Wow, that's romantic, right? No, I'd rather call it precipitate or hormone-driven.
But then, in Ignite Me, Tahereh Mafi gives plausible reasons for why these feelings existed – Juliette's relationship with Adam portraying her inability to stand up for herself – and how they could be shaken with her increasing self-respect and independence.
In Ignite Me, the author expands more on the world these people live in: Many are poor and unable to work. They feed on "foil food" in order to stay alive, and are suppressed by the Reestablishment, who intend to keep all the supplies to themselves. One of the reasons I disliked Shatter Me was the lack of the said basic information, thus it's good to finally get to know these things.
Nonetheless, what turns this into a unique book is not so much the story itself, but rather its characters and the beautiful messages and language it consists of.
Kenji is the best sidekick ever. Whenever things threaten to get tangled up in the desperation or romance department, Mafi has a smooth way of making fun of her own writing by utilising Kenji:
"It's like a soap opera. […] But with worse acting." [p. 175]
His scenes are very amusing and they constitute a nice contrast to other, more tense parts of the story. Another great side character is James. You know how little kids always seem to ask the right – and most awkward – questions? He perfects that skill and is just adorable.
I really appreciate that the characters are relatable and that the issues they have to deal with throughout the series can be applied to real life. Juliette represents the sense of being uncomfortable in your own skin and the process of finding oneself and learning to appreciate the things that make you special, whereas Warner shows that you are not defined by your circumstances and that hardships are not necessarily bound to get you down in the long run. I think these are relevant and important messages for younger people.
Also, Kudos to Tahereh Mafi for her touching writing. She has the ability of phrasing certain issues that are just so true, and wrapping these messages into beautiful words. Many of those passages truly struck a chord with me and made my heart beat faster, given the beauty of it all.
I won't even get started on how much I love Warner, but am I the only one who thinks it's weird how he turns out to be a fanatic weight lifter? I imagined him to be this skinny, somewhat fragile-looking guy. So that revelation was … funny.
The thing that had a negative connotation to me is the fact that Juliette, a 17-year-old girl, plans on owerthrowing the government and then becoming the supreme commander herself. She can have all the strength she wants, yet that mental image will always seem "slightly" unrealistic and ridiculous to me. No matter which terrible experiences they have or which tough times they live in, nothing will ever cause 17-year-olds to be fit to rule an entire nation. Just no.
Solely based on Shatter Me, I never would've thought that I might say this one day, but this book series now ranks amongst my favourite young adult series and will most definitely be reread in the future – although I might skip the first installment.
RATING