Self-made The Night Circus bookmark, quote by Oscar Wilde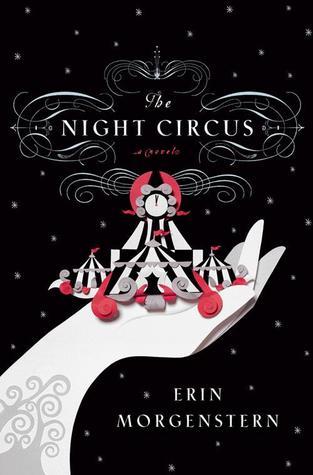 BASIC FACTS
Author: Erin Morgenstern
Published by Doubleday on September 13, 2011
Pages: 400
Genre: adult fiction, fantasy, magical realism (maybe)
COVER
It is without a doubt a jewel on my bookshelf. The lettering of the title has a holographic sheen. But what I especially like about it is its enchanting character, which goes hand in hand with the story. It's also a beautiful metaphor: The reader can hold an entire circus in the palm of his/her hand just by picking up this very book.
SYNOPSIS
Two of the greatest magicians of the 19th century, who have been rivals for as long as they can remember, each take a child under their wings in order to play them off against each other in an intense competition. Even though Celia and Marco have been trained for the magic duel since childhoold, they know next to nothing about how it is going to proceed. There are no clear rules and their instructors cloak everything in secrecy. The only thing they do know is that it's going to take place in a circus, Le Cirque des R
êves. A circus that's been carefully drafted especially for this very occasion.
QUOTES
'"It

[telling stories]

is important," the man in the grey suit interrupts. "Someone needs to tell those tales. When the battles are fought and won and lost, when the pirates find their treasures and the dragons eat their foes for breakfast with a nice cup of Lapsang souchong, someone needs to tell their bits of overlapping narrative. There's magic in that. It's in the listener, and for each and every ear it will be different, and it will affect them in ways they can never predict. From the mundane to the profound. You may tell a tale that makes up residence in someone's soul, becomes their blood and self and purpose. That tale will move them and drive them and who knows what they might do because of it, because of your words."'
MY OPINION
While reading The Night Circus, I felt like a child all over again, a child who is visiting the circus for the first time and is amazed at all the bright lights, wild animals, cotton candy and delightful wonders.

I was immersed in the story right from the very first page because of the unique way in which this novel is written and constructed: The narration switches between three different characters, intermitted by passages written in second-person narrative: In these parts of the book the author convincingly describes how you as a reader get to experience the circus for the very first time, along with all the other excited visitors. On top of that, the story is told anachronistically.
If that sounds confusing to you, let me assure you that all the storylines are interwoven, and it all adds up in the end. The desire to find out how exactly these different characters interrelate is something that consistently builds up suspense.

The competition between the two young magicians is not a typical duel to the extent that they do not fight each other simultaneously. There is no constant clash. Rather, Celia and Marco have to use their magical talents separately to contribute to the circus in the best way possible.
Thus, The Night Circus can't be considered an action-packed novel. On the contrary, it is a slower, more subtle read that needs to be absorbed consciously. If you regard descriptive writing as boring, this novel might not appeal to you. What made this story work for me and what brings it to life is the author's vivid imagination and beautifully poetic language.

Morgenstern sure knows how to create an authentic, unique setting. The circus was a lot of fun to explore: It contains an enchanted carousel, a wishing tree, tents with illusionists, an ice garden and a cloud maze among other attractions.

However, there is also something that I didn't like about this book: Overall, the author could have focused a bit more on the actual plot. As the main characters don't interact much until halfway through the book, at certain points it feels like there isn't all that much happening. Also, the conclusion fell a bit flat for me.
To put it in a nutshell: I can only entrust you to pick up this book, you're in for a treat!
RATING
Have you read the book yet? If so, did you like Erin Morgenstern's writing style as much as I did?
I'm really curious to see which other stories she comes up with in the future!