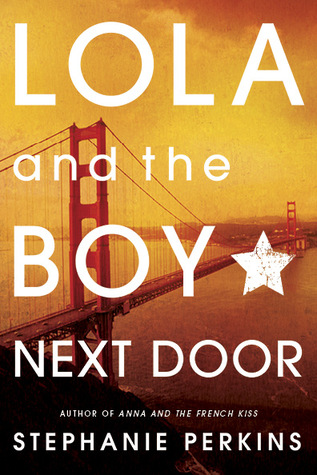 BASIC FACTS
Author: Stephanie Perkins
Published by Dutton Juvenile on September 29, 2011
Pages: 338
Genre: romance, contemporary (YA)
BOOK PLAYLIST
Check out the playlist I created of the
songs I listened to whilst reading the book.
SUMMARY
Lola is a seventeen year-old girl who likes to dress up with extraordinary costumes she sews herself. She has to deal with convincing her two strict fathers that her 5-years-her-senior rocker boyfriend Max is the right one for her. But then everything is thrown out of balance when the love of her live, her ex-neighbor Cricket, moves in next door again and brings along all those nasty old memories and feelings Lola has desperately tried to block out.
QUOTES
"'Go out with me tonight. Tomorrow night, every ni—'" (p. 92)
"'We're dressed as twins.'

Lindsey grins back. 'Hmm, I see it now. Fraternal or identical?'

'You'd be surprised how many people ask,' Cricket says.

'What do you tell them?' Lindsey asks.

'That I have a penis.'

Oh God. My cheeks burn as they all burst into laughter. Think about something else, Dolores. ANYTHING else. Cucumbers. Bananas. Zucchini. AHHHH! NO NO NO NO NO NO NO." (p. 212)
MY OPINION
What I like a lot about Stephanie Perkins is that her characters always appear so real and genuine.
Lola is a very likeable character. And what's not to like about Cricket? I think he might even be cooler than St. Clair. Extraordinarily charming, polite and just a really nice guy. PLUS, he has a pronounced sense of fashion and is adorable. I certainly wouldn't mind meeting someone like him …
The secondary characters in this book do not remain hollow and expressionless, that can be recognised by Lola's fathers. They aren't just reduced to their homosexuality. I appreciated the consistent development between Lola and her mum. Also, the little story with Cal, Cricket's sister, rounded it all out. And it was cool that Anna and Étienne, the main characters from
Anna and the French Kiss
, had some appearances as well.
Though, one thing I have to criticise about the book is the relationship between Lola and Max. His character seemed rude and shallow to me throughout the whole book and I wasn't able to understand the reasons for Lola to date him at all. That feeling just grew stronger the more you got to know about Cricket. It wasn't nice to keep both of them waiting for so long.
For me, a young adult novel mainly has to be entertaining, and this book certainly was. I enjoyed it a whole lot and found it really exciting from the first pages on. The story is basically a simple romance, but things like the childhood memories that Lola and Cricket have in common give more depth and individuality to it. Although you know where the plot is going to end up, it does have twists and turns in it. So, in the end it turns out to be a really sweet and delightful book that I enjoyed almost as much as
Anna and the French Kiss
—I just think the chemistry between St. Clair and Anna was a bit more heartfelt and not that cliché-perfect. I'm soo excited for
Isla and the Happily Ever After
, which is going to be published in 2014!
RATING